I ran across this article this morning and thought it would be a good one to share here. If you're already selling eggs, or only dreaming of raising chickens one day, it's good to have a handle on the real cost of raising top-quality eggs in your back yard. Of course, for me, raising my own laying flock is more about boosting my kids' health and nutrition (you can't buy eggs as good as mine in any store!) than about economics, but it's still good information. I found his comments to be spot-on, with a few minor adjustments for local organic feed costs in my area.
Here's the blurb from the top of the article:
"Josh shares the facts and figures of raising pasture-raised, free-range, organic-fed hen eggs. It's math that can really help you understand your inputs and what you should be charging for that dozen of eggs you collect from your chickens."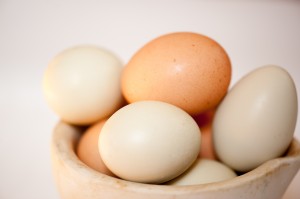 Small Farm "Egg-onomics" from On Pasture
http://onpasture.com/2013/12/02/small-farm-egg-onomics/